Mission Statement:
​Nature's View, Inc. designs, builds and maintains landscapes in an ethical and sustainable manner for the benefit of our clients and their communities.
---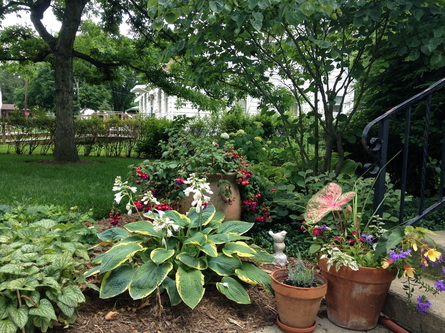 Nature's View, Inc. is a family owned landscaping company based out of Watseka, Illinois. What began as a dream between three college friends back in 1996 became a reality for Corrie and Rusty Maulding in 2011.

Nature's View is a full service landscape provider offering design, installation and maintenance solutions to residential, commercial and municipal clients throughout East Central Illinois.


---
---
Corrie Maulding, President

At a young age, Corrie was immersed in beauty and nature. She grew up in in the town of Riverside, Illinois – the first planned community in the United States. The beauty and history of her childhood neighborhood taught her to love and appreciate the village that was built in a park. This historic Landmark Village designed by Landscape Architect Fredrick Law Olmsted taught Corrie to love and appreciated the amazing homes and abundant green spaces as well as the wildlife choosing to reside in it's beauty. Corrie enjoyed tennis and gymnastics, traveling, reading, music, and design.Her love of music brought her to Illinois State University where she auditioned for the music program and was accepted into it and the Big Red Marching Machine Drum Line. She also was able to continue fulfilling her travel desires by going to Ireland and England with the Marching Band. It was at ISU that Corrie changed her major to her other love – design, and then later met her true love – now husband and business partner, Rusty. She graduated from Illinois State University with a degree in Interior and Environmental Design.A year after graduation, Corrie and Rusty were engaged and moved to the City of Chicago. Corrie soon fell in love with the landscaping world after taking a job at Christy Webber Landscapes – one of the top 100 landscape companies in the nation. While working at Christy Webber Landscapes she performed a variety of jobs from receptionist, fleet manager, residential design assistant, administrative assistant, website designer, uniform manager for over 200 employees, and she designed a build out to the existing office. She also was instrumental in attaining LEED Platinum certification for the new office headquarters – something she is very passionate about, and is the highest classification granted by the US Green Building Council for Leadership in Energy and Environmental Design (LEED). During this time she continued taking educational classes to learn more about landscaping.After starting a family, Corrie and her husband decided to fulfill a dream of having their own landscaping company that had been talked about since they first met. Discussions and plans took place and with that, in 2011, Nature's View was born. But, their desire to move back to Central Illinois was pulling at them.In March of 2012, Corrie, Rusty, their almost 2 year old son and their 3 dogs– picked up and moved themselves and their company to Watseka.While Corrie currently does most of the behind the scenes things in the office at Nature's View, you will occasionally catch her riding a mower, driving the dump truck or spreading mulch as the finish touch on a clients project.Fun facts about Corrie:1. Very passionate about the environment and has been know to dumpster dive just to recycle what people throw out2. A huge lover of animals3. Is extremely detailed oriented and has a super good memory4. Loves to travel and has been to 37 states, 13 countries on 3 different continents5. "Cinderella" and "The Secret Garden" are her favorite books

​

Rusty Maulding, Partner & Horticulturist

Rusty was raised between Buckley and Loda on a grain and livestock farm. A strong work ethic was instilled in him at an early age, not always by choice…. He remembers countless days bailing hay starting at a young age. Just for some variety, he detasseled corn for 4 summers.Rusty has been in the green industry since 1995 when he changed majors in college and worked at the Champaign Country Club as part of a seasonal grounds crew. Since that time, he graduated from the University of Illinois with a Bachelor's of Science in Ornamental Horticulture and has worked in 3 distinctively different markets in very different companies.He began by honing his skills with a professional residential landscape contractor and then a retail garden center in the Bloomington/Normal area for 4 years. Next he moved north to the City of Chicago where he worked at Christy Webber Landscapes – one of the top 100 landscape companies in the nation. For the next 9 years, he managed hundreds of residential maintenance properties along with high-rise commercial locations with rooftop gardens. He also managed Midway Airport, the United Center and oversaw production and horticultural care of the southern portion of the City of Chicago's medians. He worked his way up in a company of over 225 employees to Vice-President of Operations and Branch Manager.Now, Rusty puts all that he has learned to good use at Nature's View. He provides client care for all landscape design, installation and maintenance clients and manages production. At any given time, he may be instructing a crew, maintaining equipment, creating a landscape design plan or providing a horticultural walk through with a current client. He loves plants and the way a great landscape can so positively impact our everyday lives. Rusty is also deeply passionate about the landscape industry. He has taken it upon himself to stay current with the best practices in the industry. He is a Landscape Industry Certified Manager and Technician through the National Association of Landscape Professionals (NALP) – the nation's premier landscape and grounds care professional association. In addition, he has earned his State of Illinois Pesticide Applicator's license in turf, ornamentals, right-of-wa, aquatics and mosquito.More locally, he also gives back to the Illinois Landscape Contractors Association – representing more than 800 landscape related members. Rusty has served on the Board of Directors and was the chairman of the Professional Oversight Committee. He was Vice President in 2014 and currently, he is President of ILCA.During Rusty's leisure time he enjoys spending time with his family – even when they are working. He also likes hiking and learning about a wide variety of topics including how natural systems work. Perhaps he best enjoys cooking on his charcoal grill and sampling a micro brew with friends and family while in his backyard garden!

​
---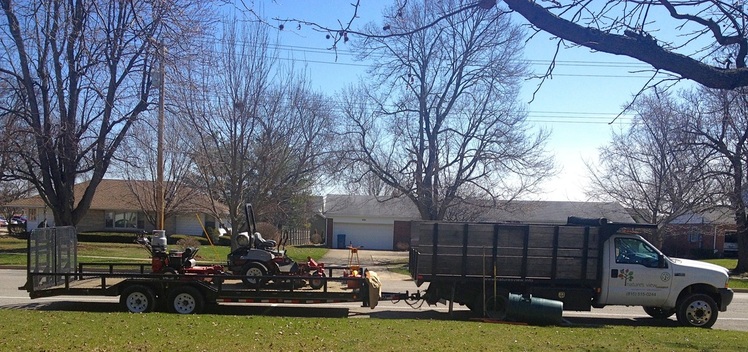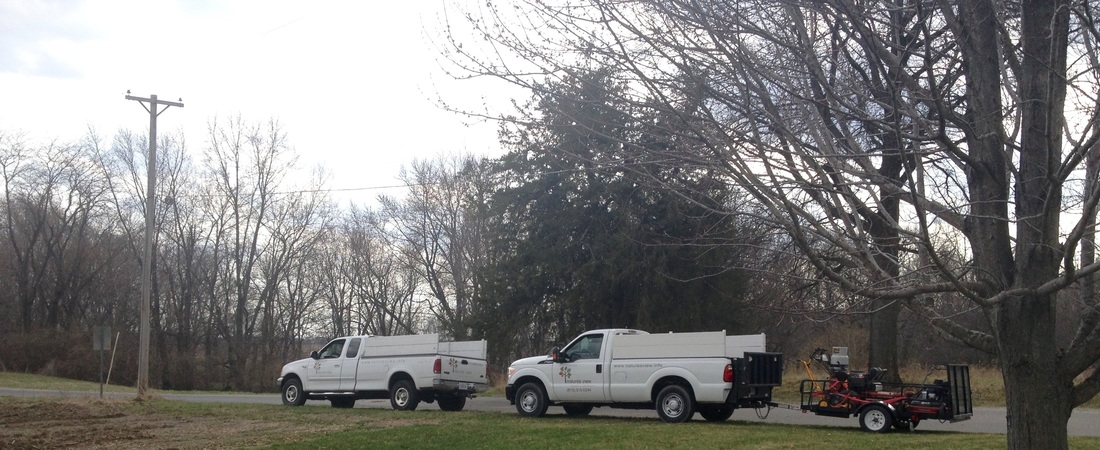 ---
As required by law, Nature's View Inc. is fully insured and carries workers' compensation insurance. Click
here
to see our policy (type in NATURES VIEW INC) or to check other companies. As a reminder, if someone has at least one employee and is doing work on your property, they MUST have workers' compensation insurance. It is the law!