Become Inspired...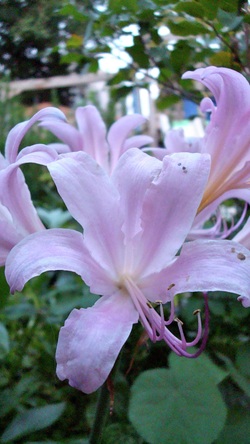 Below is a small sample of some of the gardens we have worked in. Nature's View has worked in many areas - from the City of Chicago, to Central Illinois where we live, and many of the western suburbs in-between. We are eager to help you with your garden needs! We proudly service residential, commercial and municipal clients. Please check back often as we continue to add photos to inspire you!
---
---
Front Yard Design, Installation and Maintenance
Watseka, Illinois

​Nature's View origianlly received a call to come look at a Rose of Sharon shrub that was very overgrown and refused to flower in this Watseka client's back yard. That horticultural expertise led to that shrub flowering for the first time in years and the clients were so excited!

Not long after that, they called to see if we could help them with their front foundation. They love plants and flowers and we went to work on designing a cohesive plan for them. They had an existing concrete patio in the front in great condition where they like to sit and also serves as path they take from their cars to their front door. So, the front yard is seen to them all the time.

Our design included a natural flagstone edging for the beds. This helps to keep the maintenance down and makes it easy for the homeowner to mow. The color of the stone was selected to coordinate with the color of their home. We removed all the rock and some of the existing plants and installed shrubs, perennials and mulch. The homeowner has some great yard art that we placed around the garden and they add to their new garden beautiful seasonal color displays.

The plant material selected is low maintenance and designed to have four-season interest. The overall design and plant selection is also very inviting to the birds, bees and butterflies. The client now has an extension to their home; a new outdoor room for them to sit and sip their morning coffee, or to relax and reflect on their busy day.
---
Back and Front Yard Design, Installation, & Maintenance
​Riverside, Illinois
The original design of this back and front yard, had good bones, but lacked flow and structure. Nature's View changed out some of the plants, re-designed the bed lines for better flow and maintenance and planted a lot of bulbs for pops of spring color.

The clients wanted to be surround by green. To achieve this, Nature's View worked on a turf program that included applications of organic fertilizer, raising the height of the mower and leaving all grass clippings on the lawn to allow organic matter to get back into the soil.

There are little things happening in all parts of this garden. Taking a stroll through is calming and relaxing after a busy day. The clients dog has a lush green, chemical free lawn to run around in and they are surrounded by beauty and nature.
---
Back Yard Enhancement
​Darien, Illinois

---
Design, Installation and Maintenance
​Lemont, Illinois
---
Enhancements and Maintenance
​Oak Brook, Illinois

---
Front Yard Design and Installation
Riverside, Illinois

---
Back Yard Design and Installation
Riverside, Illinois

---
Seasonal Color Displays
---